The definition of "connect" is to bring together so that a real link is established. We would love to connect, or establish a "real link," between you, our church, and to Jesus Christ. Through our experiences, we have found the best way to do that is by participating in Church Services, attending the SOM Orientation, and learning in a Personal Bible Study.
Please read on to find more about how you can get connected in a much greater way: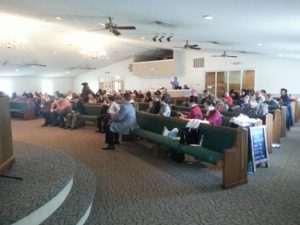 Join us for services:
We believe church attendance is vital to maintaining a Christian life. Some of the benefits include: 1. Fellowship with other Christians; 2. Participation in corporate worship and prayer; 3. Opportunities to receive Bible teaching and preaching; 4. Encouragement in times of need; 5. Refocus of our priorities.
Hebrews 10:24 And let us consider one another to provoke unto love and to good works: 25 Not forsaking the assembling of ourselves together, as the manner of some is; but exhorting one another: and so much the more, as ye see the day approaching.
We understand there are times when things come up, such as sickness or work schedules, but we all should make it a priority and a goal to be in church at every possible opportunity. Great things happen at church!
Membership class:
Whether you are a seasoned Christian or just beginning your spiritual journey, the SOM Orientation is a great introduction to this church and to the principles of Christian living. Completing Orientation is a prerequisite for joining many other ministries of the church. This program welcomes new members, familiarizes them with their new church, and provides them with an atmosphere conducive to growing in a new life in Christ at The Sanctuary.
If you are interested in attending the SOM Orientation, please contact someone on our leadership team, pastor or the church office: (478) 474-9545
Personal Bible Study
We believe that one of the most effective ways to connect you to God, His Word, and His church is by completing a personal Bible study. We have many volunteer teachers and a variety of Bible study lessons and methods to help you learn the Word of God.
You may contact our church office at (478) 474-9545 for more information.